What Makes Us Different
Our elevated craftsmanship, durability and resiliency is in the DNA of everything we produce. We create products that are sustainable and feature exclusive materials, creating travel solutions for today and beyond. The following four principles guide us as we continually evolve, creating innovating and testing products to meet the needs of our customers.
Design Excellence
We seek it. We study it. Yes, we obsess over it. From aeronautics to automotives to sports — we're constantly inspired by the world's most innovative industries to create products that work for you. And with more than 125 patents to our name, our passion for forward-thinking is what keeps us ahead of the curve.
End To End Design
Designed From The Bottom Up
Every product ever designed by us started from an idea on a piece of paper and then engineered over and over until we are satisfied with the product we hold in our hands
DEEP DOWN DESIGN
Design Is Engrained Into Our DNA
We bring our obsessive design ethos into the smallest details of our products, because we believe that's where they matter most.
PRECISION DETAILS
Its the Small Details That Count
The reason we obsess over creating pieces that constantly exceed expectations, down to the smallest detail. Test, test, test, reject and repeat. Each and every Tumi product is put through extraordinary paces to make sure it will perform flawlessly.
Technical Innovations
We create products that incorporate the most advanced and state-of-the-art components to provide solutions that prevent problems from arising
X-Brace 45 Handle System
An innovative telescoping handle made from lightweight yet sturdy aircraft-grade aluminum.
FXT Ballistic Nylon®
Our exclusive FXT ballistic fabric combines a unique weave and special coating to make it ultra-durable.
Easy Glide Wheels
Our state-of-the-art in-line wheels are custom-designed to roll smoothly and quietly for hundreds of miles.
Tegris®
Globally exclusive to TUMI, the Tegris case material offers unparalleled strength and impact resistance at very light weights.
Add-a-Bag System
Slip your select TUMI Backpack safely and securely over your luggage handle for easy airport & travel excursions.
TUMI Tracer®
A complimentary program that reunites TUMI customers with their lost or stolen bags.
Omega Closure System
This system reduces the risk of damage to the zipper and makes replacing one unnecessary.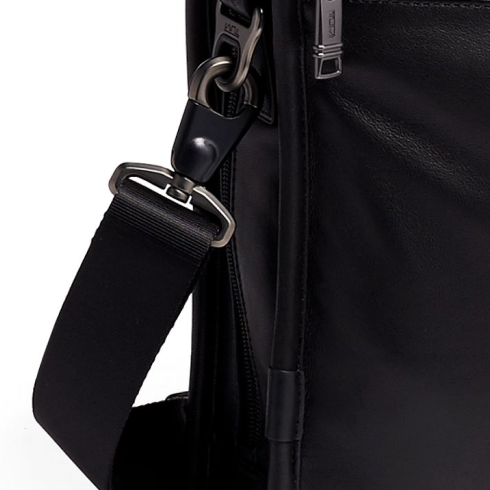 Secure Slide® Shoulder Strap Attachment
This exclusive design features a cover that slides into place to ensure the clip stays securely closed.
Functional Superiority
Our innovation doesn't happen in a vacuum. People inspire everything we do. That is why we take every product out into the real world to be assessed in multiple scenarios. Our products are put through comprehensive testing to ensure they will perform and endure. And, in the unlikely event you have an issue — we'll fix it.
Superior Quality
We want to keep you and your TUMI on the road. Each bag has undergone rigorous testing to ensure its durability meets our high standards.
Before crossing the finish line
At TUMI, all products are put through a combination of 30 unique tests, many of which we pioneered.
Tumble Test

Bags tossed in a tumbler 125 times

Handle Jerk Test

Pull/jerk handles to ensure it's secure

Zipper Tensile Test

Zippers that won't tear

Mileage Cycle Test

Smooth wheel operation
At Your Service
When you purchase a TUMI product, you also purchase a promise that if something goes wrong, we will fix it. If your question starts with 'Can you help…?' The answer is always yes.
GLOBAL WARRANTY
TUMI products are made to exceed expectations. That's why we stand behind each one.Should you experience any issues with your TUMI product, our products come with up to a five-year warranty.
SAFE AND SECURE
A complimentary program that reunites TUMI customers with their lost or stolen bags.
PERSONALISATION
Accents and embellishments to complement your personal style.
SUSTAINABILITY
Innovative by Nature
Sustainable by Choice
TUMI products protect your belongings when you travel. Our planet is an astonishing place,and we believe it's our responsibility to preserve it for travelers of the future.
MATERIAL INNOVATION
980,531 plastic bottles have been diverted from landfills and converted into reusable materials for TUMI bags. We use post-consumer recycled PET fabric as the interior lining, zipper tape, webbing and binding.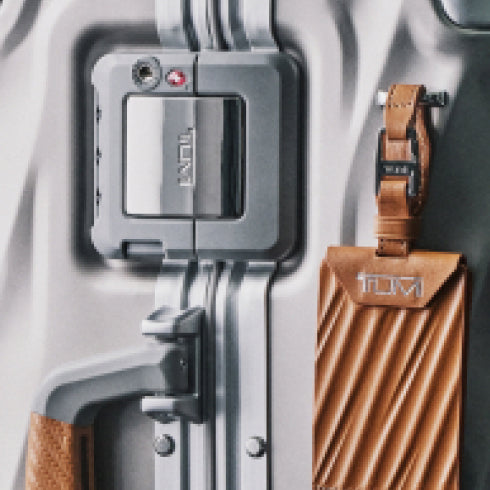 Innovative Products
We create high-quality products using sustainable materials. One percent of proceeds from our largely recycled 19 Degree collection will support environmental causes that are part of the 1% for the Planet network.
Carbon Action
We're working with our operations around the world to reduce carbon emissions by 15% and transition to 100% renewable energy by 2025. We are doing our part to preserve the world's beautiful places
Thriving Supply Chain
Our supplier code of conduct requires our suppliers to meet our standards of fair and responsible business, so that everyone involved in the making of TUMI luggage is treated with respect and care.
People Focused
Our journey is powered by people, our greatest asset. Working with exceptional partners like St. Jude Children's Research Hospital, All Hands and Hearts and Waves for Water, has allowed us to help make tough journeys a little easier on the way to better places.